Printer-friendly Print This Page
Cantucci di Prato
This recipe comes from my mother-in-law's great-uncle, Zio Angiolino, who used to make lots of these traditional biscotti and gave them wrapped up as small Christmas gifts to family and friends. His friend Gigi, a baker, used to let him use his oven to cook the cookies, so they came out perfectly each and every time!
Here is a link to a very useful article on biscotti.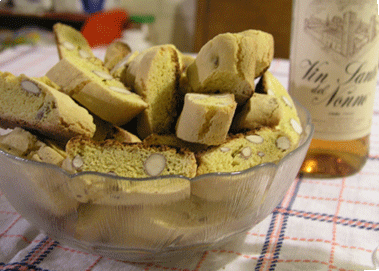 Serves: 3 dozen (depends on how you thick or thin you cut them!)
INGREDIENTS
500 g bread flour
300 g sugar
250 g almonds, unpeeled
50 g pine nuts
4 eggs
1 tsp baking powder
pinch of salt
grated peel of one lemon
a baking or cookie sheet, parchment paper
Preheat the oven to 180°C (360°F).
Mix the flour and sugar in a bowl. Add eggs and the rest of the ingredients until the ingredients stay together in a ball of dough.
On a clean surface, turn out the dough and shape it into a 3 cm wide roll as long as your baking sheet. Cover the baking sheet with a piece of parchment paper to help keep the cookies from sticking to the sheet (as no butter or oil is used). Place roll on the sheet, lightly flattening the top part of the roll.
Place sheet in oven and bake for 30 minutes, then remove the roll from the oven. The roll should be warm and firm; place it on a cutting board and cut diagonally, making 1 cm wide slices.
Place the slices back on the baking sheet on one of the cut sides, making sure to leave some space between each slice and place the sheet back into the oven, lowering the temperature a bit to 150°C (300°F). Bake for 15 minutes, then take the cookies out and turn them onto the other side and bake an additional 15 minutes. Remove and let cool. Store in an air-tight container to keep fresh.
These cookies are traditionally enjoyed together with a good glass of Vin Santo. Any other dessert wine will also go well. And although it is common Tuscan tradition to dip the cookie into the Vin Santo, the creaters of these two products have expressed a desire for this to not occur, saying each product has its own unique tastes which should be enjoyed.... together but not together.
Buon appetito!