Printer-friendly Print This Page
Pan di ramerino
Pan di ramerino or rosemary bread is soft and sweet made with bread dough, raisins and rosemary. It is traditionally eaten on Holy Thursday, a time when it can be found all across Florence and Tuscany as bakeries sell the bread after having it blessed in nearby churches. Very similar to hot-cross buns, if you know those...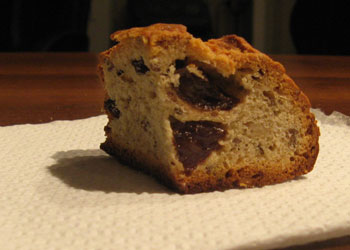 INGREDIENTS
500 gr white bread flour
30 gr fresh yeast
4 tbsp olive oil
150 gr raisins
two twigs of rosemary
100 gr sugar
pinch of salt
Dissolve the yeast in a bit of warm water and pour into the flour. Add as much warm water as need to create a soft dough, not too sticky. Add a bit of flour if it gets too sticky and knead the dough until smooth. Shape into a smooth ball and place into a clean bowl, cover with a towel and place in a warm place to rise for about an hour.
In the meantime, heat up 4 tablespoons of olive oil with just one twig of rosemary and the dry raisins. Remove from the heat and let cool.
Once the time of the first rising is over, take the dough and knead again. Discard the rosemary from the cooled olive oil and add that and the raisins to the bread, along with the sugar, a few fresh leaves of rosemary finely chopped and a pinch of salt. Knead well and separate the dough into several small balls or buns, cover with the towel and let rise again for another hour in a warm place.
Cut a cross on the top of each ball of dough, then brush with a bit of olive oil (use the twig of rosemary as a brush). Bake in the preheated oven at 200°C (470°F) for about 35-40 minutes or until the crust is golden.
Buon appetito!