Printer-friendly Print This Page
Panzanella - Italian Bread Salad
For this recipe you'll need a good, dense loaf of bread that is at least a day old! Italians always find a way to use leftover bread... here in Tuscany we have Pappa al Pomodoro as a regional specialty using leftover bread, also very delicious. Panzanella is considered a summer dish as the tomatoes and cucumber should be fresh and have that wholesome summer taste (something winter produce seems to often lack) but you can still try it anytime of the year!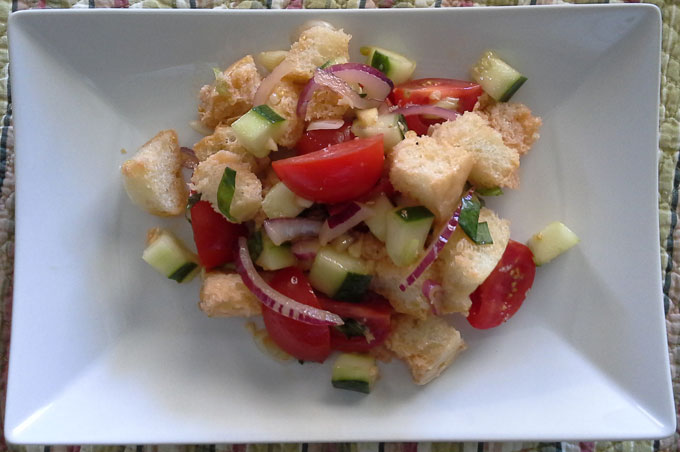 Photo courtesy of Marnie L. - thank you for sharing!
Makes:4-6 servings
INGREDIENTS
2 large ripe tomatoes, cut into bite-size pieces
1 small cucumber, peeled and diced
1 small red onion, thinly sliced
1 clove garlic, very finely minced
1 cup fresh basil leaves, torn into small pieces with your hands
1/2 cup extra-virgin olive oil, plus more as needed
3 tablespoons balsamic vinegar or red wine vinegar, plus more as needed
salt and freshly ground black pepper, to taste
8 slices thick stale country style Italian bread, torn into bite-size pieces (sourdough is also good but not something you use here in Italy)
In a bowl, combine the tomatoes, cucumber, onion, garlic and basil. Drizzle with the 1/2 cup olive oil and the 3 tbsp vinegar, season with salt and pepper and toss well.
Place half of the bread in a wide, shallow bowl. If the bread is quite stale and dry, you should first spoon a few tbsp of water over the bread and let it soak some of the water up, then with your hands squeeze all of the water out and place bread in a different bowl before proceeding. If it isn't too stale or didn't have any, then you can skip this step.
Spoon half of the tomato mixture over the bread. Layer the remaining bread on top and then the remaining tomato mixture. Cover and refrigerate for at least one hour or until serving time. Just before serving, toss the salad and adjust the seasonings with salt and pepper. At this point the bread should have assorbed the water from the tomatoes and be all moist. If the bread seems dry for some reason, add a little bit of olive oil and toss well. Serve immediately.
Buon appetito!